The health care reform law includes benefits for older people, including improvements to Medicare. It is important to know that the guaranteed Medicare benefits you currently receive will remain the same. During open enrollment in the fall, you will continue to have a choice between Original Medicare and a Medicare Advantage plan. Medicare will continue to cover your health costs the way it always has, and there are no changes in eligibility.
We at Legal Services for the Elderly believe that it is critical that all older people understand the facts about the new health care reform law. In this section of our website, we offer some basic information about the benefits of the health care reform law of 2010 and provide links to more detailed policy information from trusted sources.
If you live in Maine and have Medicare and want to learn more about your new Medicare benefits, contact your local Area Agency on Aging by calling:
Find all five regional Area Agency on Aging offices on the web:
Aroostook Area Agency on Aging (serving Aroostook County)
Eastern Area Agency on Aging (serving Piscataquis, Penobscot, Washington, & Hancock Counties)
Spectrum Generations (serving Kennebec, Waldo, Knox, Lincoln, Sagadahoc, Somerset, towns of Brunswick & Harpswell)
SeniorsPlus (serving Androscoggin, Franklin, Oxford Counties)
Southern Maine Agency on Aging (serving Cumberland and York Counties)
Or find contact information for all offices here.
---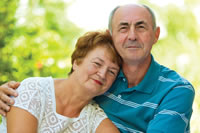 Read more information about
Health Care Reform for Older People with Medicare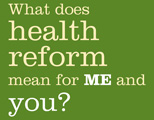 Not an older person?
Go here for information about
Health Care Reform for adults, children and families