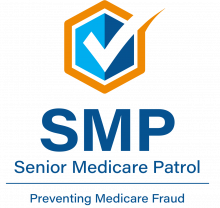 Maine Senior Medicare Patrol
Educating Maine Medicare beneficiaries, their families and caregivers about Medicare benefits and empowering them to prevent healthcare fraud
Welcome to the Maine SMP Website!
At this site you'll find information and links about our program, including volunteer opportunities, and resources about Medicare benefits and how you can prevent health care errors, fraud and abuse.  Click on the sidebar tabs for a variety of resources and to learn more about who we are, what we do and how you can help.
Looking for a speaker for your community group or organization?  Contact your local Area Agency on Aging (AAA) at 1-877-353-3771 to schedule a presentation on Medicare and health care fraud.  Your local AAA also has free Health Journals available!  Call us today at 1-877-353-3771.